party like it's our anniversary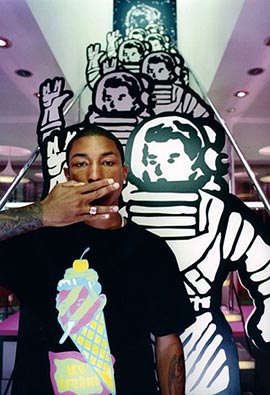 Pharrell Williams
has produced some of the most memorable songs of our generation. Hollaback Girl. Slave 4 U. Hot in Herre. Milkshake. Whether you love 'em or can't stand them...you can't deny that they're hits. He's been nominated for Grammies, had minor success with his band
N*E*R*D
, was voted
World's Best Dressed Male
by
Esquire
magazine, and has had his name included on pink t-shirts which say that the wearer kissed him.

Despite all this, I am unsure how his solo career will work out for him. His first single effort with

Gwen Stefani

"Can I Have It Like That?" only reached #48 on the Billboard Hot 100, which is nothing compared to the number one he reached with Gwen earlier in the year. Surprisingly, it reached #3 in the UK, mirroring the lack of success

Kelis

had over here in her pre-Milkshake days. His second single "Angel" only managed to climb to #15 in the UK with good reason thanks to the line-- "She got an ass like loaf of bread. You want a slice?"

The third single with

Kanye West

is much more promising, but people's expectations of a collabo between two of the hottest producers today are going to bring it down. It's currently meeting mixed reviews on the web...


"This is just as gay as I expected."

"officially the worst song of 2006!!!"

"Pharrell took a page from the book of

Michael Jackson

I see. This needs to grow on me, I'd expect better from these trendsetters of hip-hop culture."

"IT SOUNDS LIKE KAYNE IS BEHIND P PUMPIN !...THEIR EGOS ARE GETTING IN THE WAY OF GOOD MUSIC."

"nah u people need 2 eat a dick….u shud b lucky u got blessed with heat like this…u guys take music 4 granted…and u shud b lucky kanye n pharrell even exist…otherwise well b…i fucked ur momma n her pussy…and i shot ur pops etc etc….so fuck all yall"

"This is real creative…. I'm a big MJ fan and its hot… I'm so sick of da same ole club songs and lean wit it rock wit it… The music today is terrible EXCEPT for a few…I call it the "STUPID" generation cuz it seems like no one is using intelligence or creativity…big up to 2 MCs/Producers tryin to be different… 1" (all taken from XXLmag forums)

My impression is that fans expecting uber-masculine bling-bling "I came on your girlfriend's face...twice" hip-hop are disappointed. That's not what this is. Fans of N*E*R*D would be disappointed because there's no rock influence on this. Pharrell is trotting on territory he hasn't been on since "Frontin" and I'm not quite sure if consumers are going to buy that. It's a risky move and I salute Skateboard P for going for it. Even if "Skateboard P"
is
a gay name.
Etiquetas: ego, hip-hop, kanye west, party jams, pharrell williams, pop music, rhythm and blues, the neptunes